Show notes
"Running makes you value your time."
Nick Butter
Completing a marathon is a noble accomplishment.
How about completing a marathon on every continent? A feat of a lifetime.
Now imagine completing a marathon in every single country in the world. Impossible?
Meet Nick Butter — an enterprising young Brit who recently reframed human potential, becoming the first person in history to crush 196 marathons in all 196 countries.
A world-record setting feat noteworthy for daunting financial and logistical challenges that often dwarfed those athletic, it took Nick and his team two years to plan and 674 days to complete — an astounding accomplishment that entailed running 3 marathons, in 3 new countries a week, every week, for 96 weeks, blowing through 10 passports and 455 flights along the way.
More Jason Bourne than Forrest Gump, Nick ran through 15 war zones and endured several Argo-esque border crossings. He was mugged twice and repeatedly attacked by dogs, even going so far as to run 335 laps around a car park on the Marshall Islands to avoid that country's overrun population of rabid canines. He had his luggage stolen. He ran in extreme cold and unbearable heat, oftentimes starting marathons at two or three in the morning to avoid 140-degree weather. He repeatedly succumbed to food poisoning and kidney infections. This list goes on.
But ultimately, Nick prevailed -- and learned a few things about life along the way.
What drives a man to attempt such a feat? In Nick's case, it wasn't fame. It wasn't notoriety. It was something far greater.
In 2016, while enduring Marathon des Sables deep in the Moroccan desert, Nick struck up a friendship with fellow ultrarunner Kevin Webber — a man given just two years to live, courtesy of incurable advanced prostate cancer.
Kevin's courageous life embrace inspired Nick to rethink his career path in finance. Empowered him to tackle an impossible goal. And motivated him to raise funds and awareness for prostate cancer solutions along the way.
This is a conversation about the physical, mental, and emotional strength it took to conquer a challenge of breathtaking magnitude.
It's about the obstacles faced and overcome. The lessons learned. And the importance of giving back.
It's about audacious dreams. Unbridled adventure. And the courage required to jump into the unknown without a safety net.
But more than anything, this is a conversation about this fleeting, shared experience we call life — and what we can all learn from Nick's example about ourselves and our place in the world.
The visually inclined can watch it all go down on YouTube. And as always, the audio version streams wild and free on Apple Podcasts and Spotify.
Note: This podcast was recorded pre-pandemic (on January 28, 2020).
Reminder: I recently created a Facebook Group for fans of the show to to congregate. Click here to join.
I think you're going to fall in love with Nick. I sure did.
Peace + Plants,

Listen, Watch & Subscribe
Apple Podcasts | YouTube | Spotify | Stitcher | Google Podcasts
Thanks to this week's sponsors
Jaybird: Pioneering audio for the active, Jaybird makes the most advanced and durable headphones I have ever tried. Their wireless Vista earbuds (my favorite) are not only waterproof and sweatproof with industry-leading battery life, they're the only true wireless headphones that meet U.S. military rugged compliance standards. When you're ready to expand the horizon of your active audio experience, visit JaybirdSport.com and use the promo code RICHROLL20 to get 20% off Jaybird Vista.
On Running: Born in the Swiss Alps, On Running is the world's fastest-growing running brand. From their patented cushioning system to their gorgeous minimal design aesthetic, On has become my go-to for all my trail and road running needs with gear that fits, performs and looks great. To learn more go to on-running.com/richroll, pick your favorite shoe or apparel piece and run in it for 30 days after which you can keep 'em or return 'em for a full refund no questions asked — an amazing no-risk deal.
Whoop: The world's most powerful fitness membership. Get smarter about how you sleep, recover, and train, so you can unlock your best self. Go to WHOOP.com and use the promo code "Richroll" at checkout to save 15% off your order.
Native: Safe, effective protection against odor & wetness. For both men & women, Native is deodorant that isn't a chemistry experiment — no aluminum, parabens, phthalates or talc. All ingredients are non-toxic and it lasts all day. For 20% off your first purchase, visit nativedeodorant.com and use the promo code Roll at checkout!
Note: One of the best ways to support the podcast is to support the sponsors. For a complete list of all RRP sponsors and their respective vanity url's and discount codes, visit my Resources page and click "Sponsors".
SHOW NOTES
Related Podcasts You Might Enjoy
Thanks to Jason Camiolo for production, audio engineering and show notes; Margo Lubin and Blake Curtis for video, editing and graphics; portraits by Ali Rogers; and theme music by Ana Leimma.
*Disclosure: Books and products denoted with an asterisk are hyperlinked to an affiliate program. We are a participant in the Amazon Services LLC Associates Program, an affiliate advertising program designed to provide a means for us to earn fees by linking to Amazon.com and affiliated sites.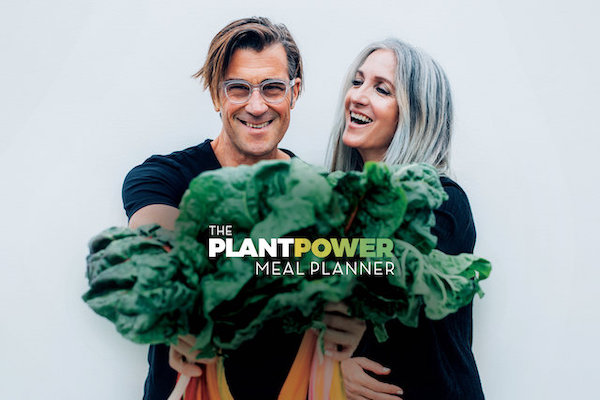 for 1000s of delicious, customized plant-based recipes & so much more, check out our Plantpower Meal Planner
HOW CAN I SUPPORT THE PODCAST?
Tell Your Friends & Share Online!
Subscribe & Review: iTunes | Spotify | Stitcher | Soundcloud | Google Podcasts
Donate: Check out our Patreon account
Support The Sponsors: One of the best ways to support the podcast is to support our sponsors. For a complete list of all RRP sponsors and their respective vanity url's and discount codes, visit my Resources page and click "Sponsors".
---
See acast.com/privacy for privacy and opt-out information.